Survey Results, part 1: Who are Brno expats?
Who are these "expats"? What do they do? Why do they keep coming to Brno? What do they like in the city? Or dislike? What are the challenges for them?
We are asked these questions over and over here at the Brno Expat Centre. We usually base our reply on our selective personal experience and contact with our clients. We've realized a long time ago we needed more than that. We needed some bigger data that could represent the situation and the needs of our clients so that we could provide that data to the public authorities. Only then further steps can be taken to really become an international and welcoming city.
Many of you, members of our BEC community, remember the "Great Brno Expat Survey" campaign at the end of the last year when we asked you to participate in the greatest research on expats in the history of Brno and the whole Czech Republic. We have reached out through all our channels and shared a link to an online questionnaire prepared by Sociofactor, a research agency, and Masaryk University, and financed by the Technology Agency of the Czech Republic.
Over 1,000 respondents – foreigners with experience living in Brno – have filled out the questionnaire. Total 957 valid and complete forms were analyzed and here is the first part of results – the demographics of the expats: who they are, where they're from, what the education level is, what languages they speak, what their family and housing situation is and where they work. Scroll down to get answers to these questions.
The second part of the study – the needs, barriers and satisfaction with public and private services – will be published next month.
Please bear in mind that the results represent foreigners who are within the reach of the Brno Expat Centre and who were willing to fill out the questionnaire in December 2018. The sample is large, however, needless to say, it does not represent all foreigners nor all expats in Brno.
From all the respondents, there are more men than women. Considering the more common technical jobs (see below) this is no surprise.
Half of the respondents are between 26 and 35 years old. Quite a young population working on mostly junior positions.
Almost 90% of respondents have a university degree. "Expats" equal highly qualified professionals by all means!
The number of countries of origin of the respondents totaled 84! Fifty-seven percent (57%) of them come from European Union countries. The gender distribution for some countries is almost equal (Romania, Russia, Ukraine), women from some countries dominate the population (Slovakia or Poland – over 60%) and fall short to the number of men from the United Kingdom or India (about 20%).
English is the common language for all respondents (no wonder; the questionnaire was in English) with German, French, and Spanish being next top three languages spoken by expats.
It is a sad fact, that more than 50% of respondents do not speak Czech better than A1 level – very basic words and phrases. However, about 2/3 have attended Czech classes and the knowledge gets better with time. 45% of respondents do speak Czech quite well (B, C level) after three years of stay.
When you don't speak Czech it is difficult to hang out with Czech speaking friends. Majority of respondents don't spend much free time with Czech friends. This is changing with time and the majority of respondents split their free time between Czech and foreign friends evenly after five years stay.
56% of our respondents have been living in Brno for over three years. These we can consider settled 🙂
The Czech Republic is the least religious country in Europe – and it seems it attracts like-minded newcomers.
Over 70% of respondents are in a relationship of some sort.
30% of respondents are in a relationship with a Czech guy or gal. But close to half of them are with a partner from the same country.
More than a quarter of respondents have a child or two. And in 92% of cases, the children live with them in Brno.
Over 50% of expat children attend kindergarten, most common nationalities of preschoolers are Romanian, British, American, German and Hungarian. Pupils of primary schools are most commonly from the US, GB, and Russia.
Majority of respondents rent out an apartment. Once living with a Czech partner, there is a good (40%) chance to buy their own place.
A big share of the respondents lives close to the city center – where the Spielberk office center is located. And 30% live to the North of the city center (Královo Pole, Žabovřesky, Sever) – where the Technology Park and most university facilities are located.
And now about work. 84% of respondents have a job in Brno. 4% are self-employed or study or do an unpaid job. 12% are unemployed.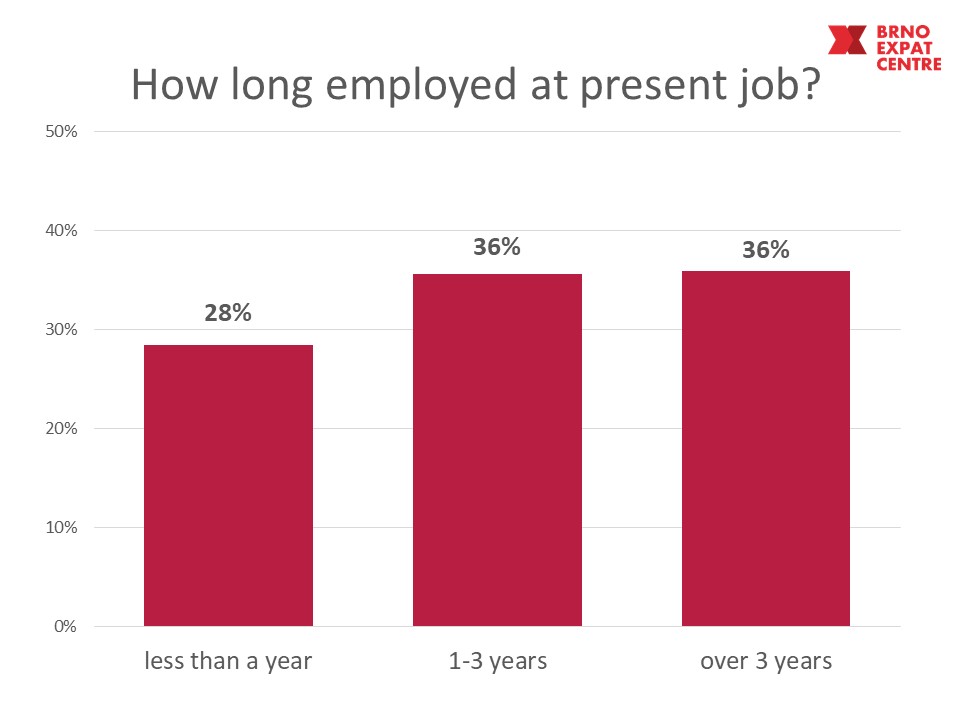 About one third have been working with the same employer for over three years, the same share for one to three years and 28% have been employed with the same employer for less than a year.
Most typical employers for the respondents correspond to the clientele and Partners of the Brno Expat Centre.
One out of five employees works as a software or hardware developer. Another one works in business support services. Education and telecommunications follow, each as an area of work for one out of ten employees.
A very optimistic result for the city and the region. Over 20% of respondents are thinking about starting a business. And 7% already have a business on their own.
Average net income in the CR is about 24,000 Kč monthly. ¾ of respondents have an income higher than that. 22% have an income more than double of the Czech average.
17% of respondents have been sending some part of their income to someone abroad. 40% of them send more than a quarter of the salary back home.
And finally, we have asked the respondents if they feel ok to be called "expatriates".  68% consider themselves expats to some extent. To our understanding, expat, as opposed to general term foreigner or immigrant, is somebody who comes as a highly qualified foreigner for the purpose of employment or business in knowledge economy sectors to develop local economy and diversity.
Continue reading: Survey Results, part 2: How's life for expats in Brno
The research project "Expats in South Moravia Region: Stay and Needs, TL01000465" is financed by the Technology Agency of the Czech Republic.