Expat's guide to the pandemic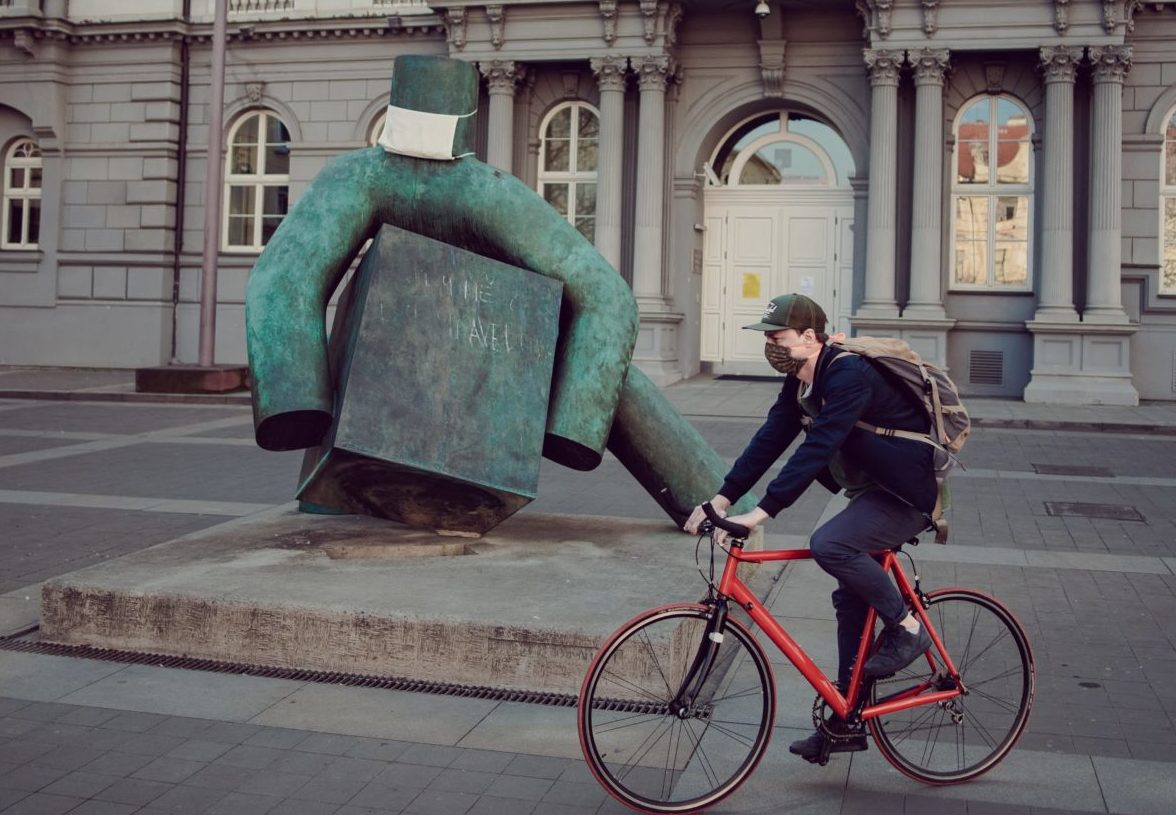 We'll be updating this article as often as possible. Last update: 8 April
Follow the latest news:
follow the government restrictions (scroll to "National information") and the situation in Brno at brno.cz/coronavirus
regarding the whole CR, follow the Ministry of Health website, and the Ministry of Interior aka Immigration office website: Information for foreign nationals)
information and suggestions from the regional Public Health Office are available here (in Czech)
another platform collating information for foreigners living in the CR can be found at coronahelp.cz
Subscribe to Brno news CTV and Brno Daily to get updates in English in your FB feed, or to the Coronvavirus daily newsletter from Foreigners.cz
Q&As:
1. How should I protect myself?
1) Stay at home
Stay home as much as possible (until 11 April, by order of the government). There are exceptions. If you have to go out, avoid contact with other people – as of 26 March, no more than two people can congregate in public places at the same time, with the exception of members of the same household, essential work reasons, or funerals.
Take particular care to avoid those who have symptoms of respiratory tract infection, such as coughing or sneezing. The risk of transmission of infection is greater if there is prolonged contact and exposure in a confined space. Travelling by tram or bus increases the risk of infection.
2) Use a mask
For direct personal protection against airborne infection, use a mask. You must wear a mask every time you leave your house (in effect from 19 March). Authorities advise wearing eye protection at the same time.
3) Hand hygiene
The strictest possible hand hygiene is one of the key protections against transmission.
Wash your hands thoroughly with soap whenever you get home.
Avoid touching objects that are frequently touched by others (door handles, elevator buttons, etc.).
If you go to public areas more often, get a disinfectant spray for your hands or wear gloves. In particular, give your children gloves to wear.
Use cards to pay and remember to wash your hands even after entering your PIN.
4) Avoid touching your face
After touching objects that may have been contaminated, do not touch your face (especially eyes, nose, and mouth) until you have cleaned your hands thoroughly.
2. What should I do if I've been in contact with a confirmed case of infection?
1) You should go into quarantine, even if no one has officially ordered you to do so. You must not be in contact with other people, especially those at high risk of developing a serious illness (seniors, immunocompromised people). You should not leave home at all, unless you absolutely have to.
If your respiratory tract is not secreting fluid, the risk of transmission of infection by air is quite low, but you should still be cautious of contact. Public health authorities still recommend full quarantine even if you feel healthy and are not showing symptoms.
2) There is no point in being tested for coronavirus at this stage if you don't show symptoms. A positive result would confirm that you are infected but would not change your situation – you would still have to remain in quarantine. Even if the result were negative you would still have to remain in quarantine, as you could be reaching the end of the incubation period, and you might start showing symptoms the next day. A negative test result cannot be considered as a sure sign you are not infected, as it is only valid for 24 hours.
3) You should remain in quarantine for two weeks after your last contact with the confirmed case of infection. The public health authority should test you at the end of this period. Your quarantine will end only if your test comes back negative. However, the authorities may be so overwhelmed with testing by then that this may not be possible.
3. How should I proceed if I have symptoms of any respiratory infection?
1) During the time of the epidemic, you should behave as if you are already infected with the coronavirus. Above all, stay at home and do not spread the infection to other people.
2) According to current regulations, a person with symptoms of lower respiratory tract infection (fever, cough, or shortness of breath) should report their illness by telephone to the staff of the catchment area (your GP, public health office 1212 or ambulance 112). They will decide if coronavirus testing is needed. If you have been in contact with a confirmed case of the virus, don't forget to mention it. They will check the name you give them against their database, and the likelihood of testing is much higher.
you can also drive yourself to the Faculty Hospital in Bohunice to get tested in the drive-through tents (these are signposted from Kamenice street), but only if your symptoms are clear (fever over 38) and your GP or the public health authority have recommended testing. Otherwise, an ambulance will come to your home to perform the test, the next day or the day after.
3) The basic sanitary measures to prevent the spread of infection are well known. Cough and sneeze into a disposable handkerchief or your elbow, not into your hand. Use only paper tissues, and throw them into garbage cans or plastic bags immediately after use; they should definitely not go back into your pockets or purses. Wash or disinfect your hands after blowing your nose or otherwise touching respiratory secretions.
4) If for some reason it is necessary to leave home, you are obliged to wear a mask. Direct or indirect contact with the elderly or people with weakened immune systems must be avoided at all costs.
5) Since no effective direct treatments are yet available against coronaviruses, it is recommended to at least support the immune system, by sleeping well, eating well, using vitamin C and so on. There is ongoing research into possible antiviral drugs and it's likely that within a few months products might be available to treat severe cases of coronavirus infection. Existing antiviral medicines to treat influenza (oseltamivir, Tamiflu) are completely ineffective against coronaviruses.
6) Call the medical emergency services on 112 if you're experiencing increased dyspnoea (shortness of breath). In these cases, hospitalization is usually required.
4. What are the numbers to call?
contact your GP via phone or mail if you show symptoms
for information, you can contact the City of Brno Infoline at 800 140 800 (ask for an English-speaking operator, they have some)
or contact the Regional Public Health Office, at 773 768 994
or if you can't reach them, try this backup helpline: 800 129 921 or 1212. They will discuss your case and give you further recommendations.
5. Is the Brno Expat Centre opened?
Our offices are closed, but our consultants are all working from home, and are still ready to reply to your inquiries. You can contact us as normal through this contact form.
6. How do I reach the Immigration office?
From 16 March activities at the office will be very limited, and only absolutely necessary operations will continue. The office will open only on Monday and Wednesday, from 9am to 12pm, and only clients with appointments will be served. Appointments will be possible only for the following services:
Registration upon arrival, including the acquisition of biometric data.
Issuance of biometric residence cards (not to EU citizens or family members of EU citizens).
Issuance of the bridging label (i.e. confirmation of legality of your stay).
Applications, notifications or any other submissions, even those which would normally have to be delivered in person, should be now sent by post to the local office of the Ministry of Interior:
Ministerstvo vnitra, Odbor azylové a migrační politiky Jihomoravský kraj, Hněvkovského 30/65, 617 00 Brno
or to the data box of the Ministry of Interior of the Czech Republic (ID 6bnaawp).
Please note that if you choose postal delivery, all the required personal documents must be either originals or notarized copies, with the exception of passports, ID cards or EHIC, which can be regular copies and do not need to be notarized. You should send them as a registered letter.
You can arrange your appointment either by phone or electronically at frs.gov.cz. Please note that all existing reservations have been canceled and you have to make a new appointment. Visiting the Ministry of Interior without an appointment is possible only for the purpose of obtaining a bridging visa. Bridging visas will be issued only if the client proves (with a ticket – a reservation is not enough) that they need to travel abroad.
You can find more information at mvcr.cz.
7. How does this situation affect my residency?
If you are a first employee cardholder, from 19 March 2020 until the end of the state of emergency, you can apply to change your employer even before the legally required period of six months. However, you are still obliged to report the change to the Ministry of the Interior according to the legal conditions. You can do so via post.
If you were legally in the territory of the Czech Republic at the moment the state of emergency was declared (March 13th, 2020), you may continue to remain in the territory for the duration of the state of emergency. Although this applies to all types of residencies, if your residency is anything other than a short-term visa and it is about to expire, we recommend you do not wait and apply to extend your stay via post according to the legal conditions of your particular stay.
8. Can I travel in and out of the country?
Foreigners can leave. However, you can't return during the state of emergency.
Foreigners with long term visa or temporary/long term/permanent residence card who stayed outside the CR before the state of emergency was declared (15 March) can return to the CR. However, you have to call your/any doctor and have to stay 14 days at home in quarantine.
Foreigners who are named on this list of exceptions are allowed to enter the CR (e.g. EU citizens who are spouses of Czech citizens, etc).
Foreigners without a visa (or with a visa for only up to 90 days) are not allowed to enter the CR.
For the up to date information about the border crossing call the Telephone line for inquiries related to traveling during the state of emergency in English, German, French, Italian.
9. How can I help?
10. Where can I get help with shopping, babysitting?
Help to Home – if you need help from volunteers, post your request here (in Czech only, use Google Translator)
Neighbours help – ensures the delivery of food and medicine to people most at risk of coronavirus infection (in Czech only, please use Google Translator)
For further tips, visit cz
11. I am self-employed, is there any financial relief?
A) 'Insurance Holidays'
Self-employed workers (OSVČ) do not have to pay minimum premiums for social security and health insurance for 6 months from March to August 2020.
There is no need to apply individually. The Czech government will basically grant you up to 30,000 CZK in relief. The minimum premiums are canceled, not only deferred.
Those minimum payments are 2,352 crowns for health and 2,544 crowns for social insurance per month. Anyone who pays more than those amounts will still need to pay monthly health and social taxes, but they can subtract the minimum from their usual monthly payments for the next six months. The new regulation takes effect from March, and ends in September; if you have already paid your March installments, you may postpone the September payments accordingly.
B) 'Nursing Aid'
Ošetřovné ('nursing aid') of 424 CZK per day is now available for a self-employed person enabled to work due to taking home care of a child up to the age of 13 affected by school closure.
You can apply for the past days until the end of April through the form  Žádost o dotaci z programu "OŠETŘOVNÉ" pro OSVČ (to be filled out in Czech and printed as PDF and sent to the Ministry of Industry and Trade or electronically by your 'data box' – datová schránka).
C) Direct financial support
A sum of 500 CZK per day (ie max 25 000 for the 50 days between March 12 and April 30) will be paid to self-employed entrepreneurs who were affected by the state of emergency.
To be eligible for the support, you have to fulfill these requirements:
your business is your main activity, or your extra activity but you can't be employed simultaneously.
Your business was active before 12 March 2020, or was interrupted at any point after 31 August 2019 (seasonal business).
You declare that you were not able to perform this activity at all or partly, due to

health threats associated with the occurrence of coronavirus,
government emergency restrictions (such as a closure),
being in quarantine,
care for your children or other family members,
the decrease of demand for products or services, or
the decrease or full halt of supplies or services necessary for your business.
You should claim these facts by a sworn statement, delivered together with your bank account number to the Financial office, by electronic data box or a hard copy to special collection boxes.
Applications will open on 15 April at the latest. They need to be sent in before the end of June. The templates for application should be available soon.
More details at the Ministry of Finance website (in Czech).
D) Also
In addition, the EET (Electronic Evidence of Sales) system is suspended during the state of emergency, and for three months after.
Entrepreneurs who had to close down premises due to government restrictions will be able to apply for a delay of rent for up to six months. They will then be able to pay back the debt in the next period, up to two years. (this regulation is just being discussed at the moment, not approved yet). Additionally, many property owners started providing a discount or made a delay possible on their own accord, so talk to your lessor.
The deadline for income tax returns for 2019 is still 1 April, but the Financial Office has promised that they will waive the fine if you submit your return before 1 July.
Non-Czech-speaking taxpayers can send their questions to the Tax Office via podatelna3000@fs.mfcr.cz.
12) How can I spend the time at home?
There's only that much Netflix one can watch. Intersperse it with:
---
Picture by Jirka Lubojacky.
Edited by Jan Kopkáš, Lucia Konôpková, Katka Báňová, Veronika Kiruščanka and Jack Stephens.