Basqueing at Don Pintxos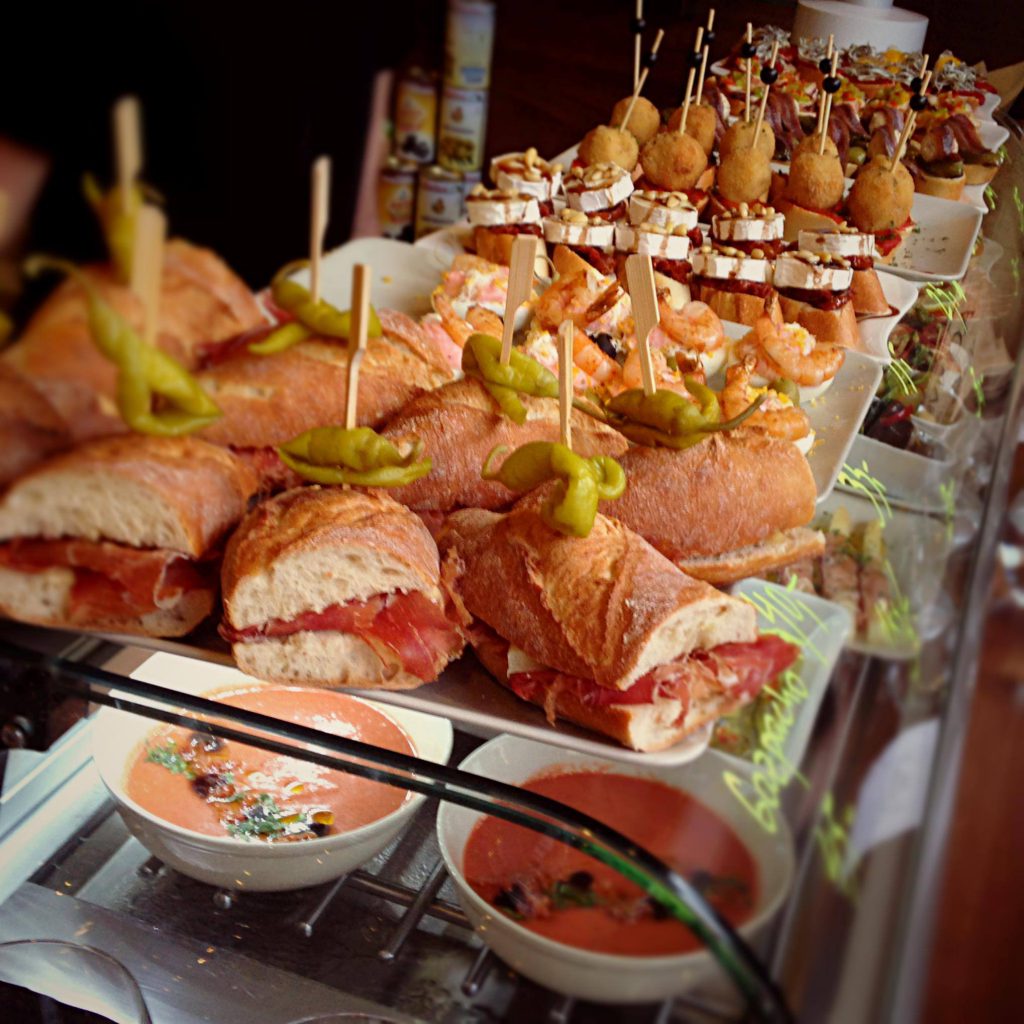 Nestled in the north of Spain, the Basque country famously has the highest concentration of Michelin starred restaurants in the world, and you only need to try some snacks in a local bar to realise why.
Pintxos are typically a small piece of bread and topping speared with a toothpick – think of a smaller and more intricate version of the beloved Czech snack chlebíčky. Walk along the streets of San Sebastien or Bilbao in the evening and you will pass bar after bustling bar of people clutching a glass in one hand and a small white plate in the other.

Don Pintxos
Dominikánské náměstí 3
website
Pintxos are taken seriously, and every bar seeks to outdo the next with their offerings. Dishes churning with colour cascade down the marble counters, each promising to taste better than the last. At the back of Dominikánské náměstí, Don Pintxos can be easy to miss.
Walk a little up the hill towards the city hall with Livingstone behind you and on your right you will see a big glass pane with a row of serrano hams hanging at the top. That's the place.
Most of the seating is stools huddled around standing height tables that are not exactly ideal for long leisurely meals, but suit the informality and unpretentiousness that is typical of Basque bars.
I started with a seasonal Gazpacho soup, which came in a chilled coffee mug with a little bread on the side. I sometimes find Gazpacho to be overpowering – too much garlic or onion or vinegar, so what might taste deliciously pungent on the first few sips becomes a chore. But this one was light and sweet – tomato and a little black pepper, with all the other ingredients serving as canvas.
After that I tried some of the daily Pintxos; one goats cheese on sun dried tomato topped with pine nuts, one blue cheese and diced pepper with olive oil, and one anchovy with serrano ham and finely sliced spring onion. The blue cheese was my particular favourite – the creamy, rich, marbled cheese set off by the sweet peppers on top. When bitten the topping sunk satisfyingly into the pillow of olive oil drizzled bread underneath.
Then I decided to try some ham. I recommend ordering their cheeses and cold meats by weight, as part of the joy of this style of eating is that you don't have to commit to eating one dish, but just have a little of whatever looks good.
They have three cuts of ham: the basic Serrano "blok", the more expensive Iberico, and what I chose – Leg of Serrano (
kýta
). It was cut in the front of the bar on a beautifully styled hand cranked slicer – all chrome and high gloss like a 1950's Cadillac, and arrived the proverbial Monty Python "waffer thin".
I have to say it's the best ham I've had in town, better than any deli. It's served with a dish for olive oil, but it's so moist and flavourful, nothing need be added when you put it on a slice of crusty bread.
Deciding between the prawns "a la Plancha" and the mussels in white wine, I opted for the prawns. They came with a light and smooth mustard dip. Grains of salt from the grill clung to the pieces. Although smaller than what one would expect in Spain or the Basque Country, they were not simply reheated shrimp – they were cooked from raw; the morcels firm and juicy, bursting like segements of perfectly ripe tangerine.
Lastly I had some grilled goats cheese, with an apricot jam. It was competently cooked – browned on either side and soft in the middle, but though the jam was welcome it lacked a bit of oomph, providing no distinguishing flavour other than sweetness.
Don Pintxos is a bar focused on wine, and they have a good selection of wines from various regions of Spain laid out on the board. They were very happy to bring a selection of wines for me to taste before I picked, and my favourite was the Lazan Blanco, a mildly oaky and sharp chardonnay. They also stock some hard to come by Spanish drinks such as "cidre" (a slightly more sour and unsparkling version of its British cousin), and Orujo, a spirit similar to grappa. I particularly recommend the slightly sweet "herbas" style as a digestive.
In my experience there really is nowhere in Brno which does Basque or Spanish food as well as Don Pintxos, and this is especially impressive considering this is a bar and not a restaurant. The size of the kitchen is… well, they don't really have one. Consequently there's not a huge selection, but what they do they do it right, and I'll take a limited choice of good things over a menu full of disappointments any day.