More than a sandwich - grilovaný sýr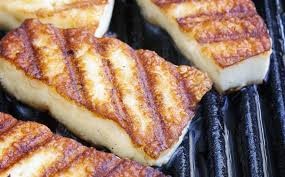 I like finding a new way to prepare a favorite food, don't you?  Before moving to Brno, I would have told you that grilled cheese was a great sandwich.  But now that I've tried grilovaný sýr, I am way beyond just a sandwich. Hot off the grill, it's delicious on a salad, as a side dish and of course on bread as a sandwich. So, if you haven't tried it yet, you are in for a treat. No grill? don't worry, you can prepare these cheeses in a pan on the stove.

The first step is to choose your cheese, and here in Brno, you have many choices that are suitable for the grill.  A few of my favorites include locally sourced hermelín, oštiepok and pološtiepok from neighboring Slovakia, as well as imported halloumi. These can be found locally in grocery stores or small speciality shops, and some are packaged specifically for the grill.  Here are some tips for selecting a cheese and preparing it.

If you like a soft, creamy and gooey cheese, then hermelín is a great choice.  It originates from the town of Sedlčany in Central Bohemia and is mild like camembert.  It comes as a small round that is covered by an edible rind which contains the cheese as it heats. To prepare it for grilling, wrap each cake of cheese in aluminium foil, but before closing the parcel, you can rub seasoning on the top and sides of the cheese according to your taste.  Some options I like include spices such as smoked paprika or the spice packet included in the package, or adding fruit such as pineapple or cranberry compote.  After sealing the parcel put it on a hot grill and heat it for approximately 5-10 minutes until the cake softens and the center is melted.  Tips for grilling hermelín

If you prefer a cheese with a smoked flavor and chewy texture, then oštiepok and pološtiepok are good choices.  Both are made using sheep and/or cow's milk and prepared and smoked according to a traditional recipe.  The oval-shaped pieces are covered by a thin, golden crust that forms during processing and makes it perfect for grilling.  You can place it directly in a hot pan or on the grill and heat it for 3-5 minutes on each side until the cheese softens.  It is delicious served with the cranberry sauce that is included in the package. Tips for grilling pološtiepok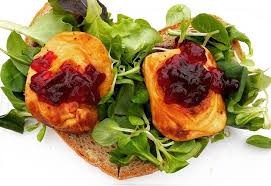 Finally, if you like a mild cheese with a firm texture, then halloumi is a great choice.  It is a semi-hard cheese made in Cyprus from a mixture of sheep, goat, and cow's milk. Halloumi has a high melting point which makes it a good option for the grill.  Simply slice the block of cheese into pieces 1-2 cm wide and put it directly in a hot pan or grill.  Add a squeeze of lemon juice and cook for 3-5 minutes on each side, flipping when the liquid evaporates and a beautiful golden-brown crust forms.   Tips for grilling halloumi and  more recipes here
* * *
Nutritionally these cheeses provide high-quality protein and a good supply of calcium. But they are high in calories, salt and fat, particularly saturated fat which may increase your cholesterol levels.  Therefore, you may want to consider including cheese instead of meat at your meal or limiting the amount you eat by sharing a portion of cheese with a friend and including plenty of vegetables and fruit to accompany the meal.
Regardless of the cheese you choose or the way you prepare it, I hope you enjoy your grilovaný sýr as much as I do – with or without the sandwich!
Many thanks to Brno residents Frederika Adamčíková and Kristine Go for their enthusiastic contributions. 
* * *
Victoria Hawk is an American Registered Dietitian Nutritionist with more than 15 years of clinical and research experience.  She is living in Brno with her husband Jon, who is working here on an expat assignment. Victoria enjoys learning about local foods and plans to share her experience through this blog series.