Bring on the Bryndza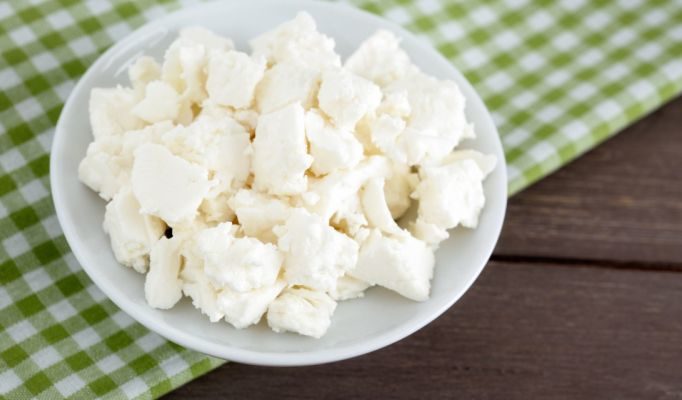 I love it when I realize that I've been enjoying a new food in different ways, don't you?  For me, bryndza is this food and I've been eating it for months in and out of Brno.
Bryndza (pronounced [brynsa]) is a soft, white cheese with a consistency that can be crumbled or spread. Derived from the Romanian word for cheese, it was traditionally made from sheep's milk but is now produced from the milk of sheep and cows.  Slovenská bryndza is unique to Slovakia and officially a trademark protected by the EU, and must contain at least a 50% concentration of sheep's milk. I love the tangy flavor and texture that results from fermentation with probiotics and the specific production methods used for centuries. If you are interested, you can find them summarized here.
My first opportunity to eat bryndza was during a visit to Slovakia when it was served at breakfast. I enjoyed its distinct taste along with bread, eggs and vegetables.  Later that day, I had a taste of bryndzové halušky, a national dish of Slovakia which combines bryndza with potato dumplings and fried bacon as a main meal – tasty!
More recently, I enjoyed bryndza at the Brno Christmas Markets.  It was deliciously spread on warm lokše (a potato-based pancake) and layered on "Christmas pizza" along with vegetables and meat.
With bryndza's distinct flavor and versatility, it's no surprise that it is a wonderful addition to meals and in baked goods. Bryndza cheese sticks are a savory treat that is easy to prepare and delicious. The recipe is included here, with some others.  Overall, there are many ways to enjoy this traditional cheese.
Nutritionally, bryndza supplies both protein and calcium, but these come along with a hefty dose of saturated fat and sodium, so you may want to consider limiting the amount you consume.  Thankfully, a little goes a long way, and a small amount provides great flavor and thus makes it an excellent choice to enhance meals including vegetables, fruit and whole grains. Regarding additional health benefits, there is ongoing research to assess the probiotics and fatty acids contained in milk and some forms of bryndza.
The cheese can be purchased locally and is offered in restaurants, so you can include bryndza in your meals and discover new ways to enjoy its distinct flavor.
Victoria Hawk is an American Registered Dietitian Nutritionist with more than 15 years of clinical and research experience. She is living in Brno with her husband Jon, who is working here on an expat assignment. Victoria enjoys learning about local foods and plans to share her experience through this blog series.
Special thanks to Brno resident Fredi Adamcikova for her review and suggestions for this article.