Czech film review: Three Wishes for Cinderella (1973) - Tři oříšky pro Popelku
A certain big green ogre with a Scottish accent has plenty to answer for. Since Shrek became a huge hit almost twenty years ago, CGI family films (save largely for the superb output of Pixar and Laika) have become an insufferable deluge of jokey, self-referential, pop-culture popping, incongruous needle-dropping facetiousness. Trust me – as a father of two young children, I've seen most of them.
After the likes of Shrek 17, Hoodwinked and Happily N'Ever After, Václav Vorlíček's delightfully old-school Three Wishes for Cinderella plays incredibly fresh by comparison. It takes itself seriously while also still displaying a mischievous sense of humour.
Downplaying the magical element and setting the story in a sparkling winter wonderland that seems like a benign version of Marketa Lazarova's wild and dangerous medieval milieu, Vorlíček relies on good old fashioned virtues to weave his spell. It may look a little barebone after so much CGI saturation, but it has lively film making, a wondrous score, great use of sets and practical effects, imaginative costume design, and game performances throughout. At its centre is a glowing star-making turn from Libuše Šafránková in her breakthrough role.
Based on a Bohemian version of the familiar Cinderella story by Božena Němcová, we find our heroine living in a small fortified settlement with her stepmother and stepsister. The whole town is in a tizzy because the King is due to visit. Everyone apart from kindly but downtrodden Popelka/Cinderella (Šafránková) who's in trouble with her stepmom after taking the fall for another servant's kitchen accident. As punishment, she is given a basket of lentils to sort out from a pile of ash. In true fairytale princess fashion, she gets a little help from a flock of white doves. She leaves them doing all the hard work and goes for a ride on her beloved horse and visit her pet owl while everyone else is distracted by the upcoming royal appointment.
While out in the forest she spots the Prince (Pavel Trávníček) hunting with friends. Just as he's about to shoot a deer Popelka hits him in the mush with a snowball, and the Prince gives chase. Once he and his friends catch up, they try to make fun of her but she's too sharp and escapes on his unruly horse.
Later, another servant takes pity on Popelka while she's washing clothes in an icy stream and gives her three magical hazelnuts that bestow wishes with a tinkling musical cue similar to the magic earrings in Valerie and Her Week of Wonders. She finds out that there is a ball coming up where the King will ask the Prince to choose a bride. You can probably guess the rest…
Šafránková's Popelka straddles the divide between the pristine, simpering naifs of classic Disney princesses and postmodern takes admirably. Sure, she squanders her three wishes on pretty clothes, but she's not about to fall at the feet of the Prince without putting him through his paces. She is an ace horse rider and a dead-eyed marksman who puts the rather dull prince charming to shame before he eventually wins her heart and her hand.
It is Šafránková's movie but there is also some solid work from Carola Braunbock who portrays a believably wicked stepmother without going full pantomime dame; Rolf Hoppe as a suitably regal king; and a nice cameo from Czech stalwart Helena Růžičková (Sun, Hay, Strawberries) as a guest at the ball.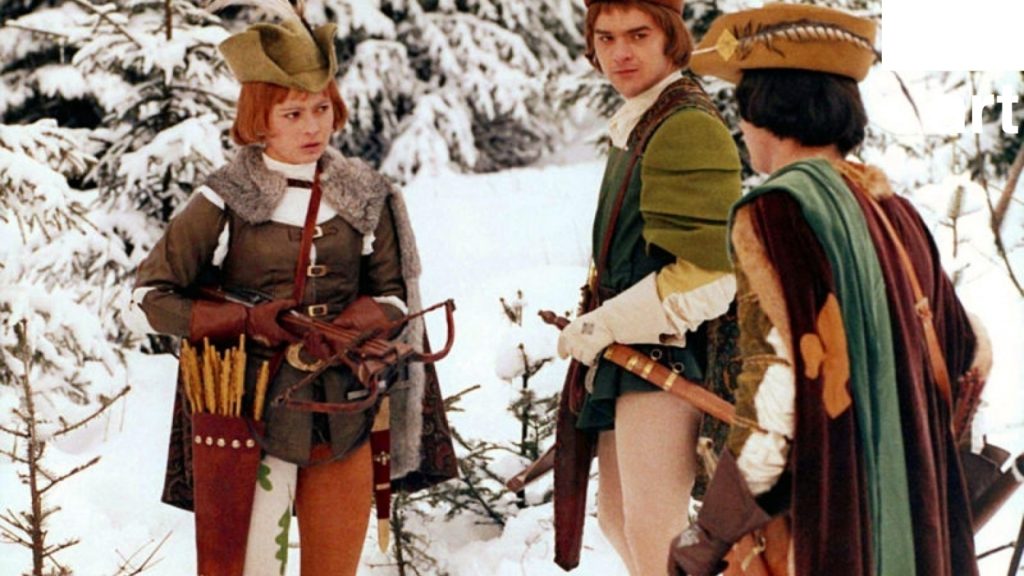 To the modern eye, the film may initially look a bit creaky, but once you have settled into the rhythm you start to appreciate the quality of Vorlíček's direction. He maximises the effect of cinematographer Josef Illík's roving camerawork, which is full of beautifully composed shots, stylish zooms and cheeky freeze frames. The costumes also look a bit panto at first glance, but there are some wacky treats here too – I loved the court jester's getup, the Prince's sparkly gold disco trilby, and the King's big floppy hat with a crown somehow jammed down over the top.
Three Wishes for Cinderella has become a family favourite in several mainland European countries, earning the status of a beloved seasonal classic equivalent of It's a Wonderful Life in the US. If you are arriving late to the ball like me, you'll wish it was part of your childhood too.
---
Three Wishes for Cinderella is showing on Czech Netflix at the time of writing. This article is a revised version of the one originally published on Czech Film Review.