Socializing in Brno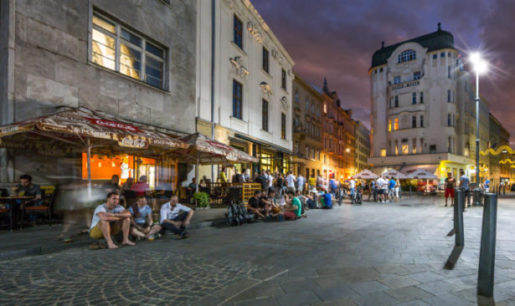 When travelling to a new country, whether it is for work, education, leisure, or starting a new life with your family, the process can be very overwhelming and scary. You may feel alone and unsure of what steps you need to take to find your place in a new country. Fortunately, you are not alone. There are others like you in Brno, looking for new people to meet and connect with. I am one of those people.
My Experiences
As an Expat, I came to Brno at the beginning of January. It was very cold, lonely, and Brno wasn't as "alive" as it is now. Still, I tried my best to explore Brno and meet new people, have fun, and create new experiences for myself. I think what is important to know is that you must put yourself out there and do things that make you happy. It may feel uncomfortable at first but the more you venture out and meet new people, the more fun and life experiences you will gain.
I'm not much of a drinker. Some nights I would go to the shisha lounges in Brno instead of the traditional pub or bar. There are many shisha lounges here but one of my favorites is called Goose Lounge. In their downstairs section, they have a big projector screen where you can watch movies and play video games, but also just meet people or relax.
There are many places like this, not just at shisha lounges, but at bars and clubs or even Brno's popular tea houses. Find places that you know you will have fun at, meet new people, interact with them and make new friends.
Famous Bars
If I go out to the bar, I like to enjoy a relaxed atmosphere. A popular place to go to is Bar, který neexistuje ,"Bar, which does not exist." This is a great place to socialize and enjoy some of the best drinks in Brno while you are at it. The people who opened Bar, který neexistuje also own other bars, one of them is called Super Panda Circus – a "hidden Bar" with a very fun and corky circus theme. Throughout your visit, you play some games: when you first walk in, when they take you to your table, even the menu is "a game." Super Panda Circus is a fun and interactive bar, but also tiny, only taking parties of 2 or 4 and no reservations. If you would like to go with a bigger party, you would have to go earlier in the evening.
These are just a few of my experiences. Fortunately, there are groups of people in Brno who get together to help expats meet new people and connect with one another.
Facebook Groups
There is a list of Facebook groups you can join that are English friendly and are geared towards helping expats just as yourself with socializing and networking with others. These Facebook groups hold different events, meetup nights, trips, and even some courses.
One of the Facebook groups is Living in Brno. This is an English-speaking community focused on helping one another with questions, providing information for upcoming events, living, and finding a job. Living in Brno always has new events, such as yoga classes in English or flea markets. There are also get-togethers for karaoke nights and comedy shows. They even plan trips to places like Amsterdam, Venice, or hiking trips around Brno.
Another group you can check out is English in Brno, which is a group for people to get together and speak English, whether they're beginners or native English speakers. They meet once a week. They offer yoga classes, help with the Czech language, organize meetups at restaurants and bars for socializing and meeting new people. I was fortunate enough to attend their 338th "English meeting" and I interviewed one of their event coordinators, Jan Kudera.
Jan explained to me that the group started in 2011 when a group of students from Uni wanted to get together and practice their English. Over time, the group has developed into what it is known as today. Jan has been a part of the group and helping organize events for five years. Most of the time these events are in bars or pubs, where different expats can come together and socialize with one another, but they also hold other events such as something called "grill point," which are outdoor picnics where you can bring your own food and hold BBQs with other expats.
I asked Jan if the expats who attend these events get a real sense of community and connection with one another, his response was, "Yeah, definitely. It is a great place to meet friends and for people to do their own thing."
I asked Jan if he suggested any locations that foreigners can go to feel comfortable and have fun. One of the first suggestions he had was Utopia, which is a shisha lounge and tea house. It is this big facility that has various lounge sections to relax, smoke shisha, and drink tea. There is also an entire billiards hall as well, with comfortable booth tables surrounding the billiards, also serving beer and other alcoholic drinks if you aren't interested in shisha or tea.
Another fun location you can go to is Výčep Na Stojáka, "The Standing Bar," which is a bar located behind the St. James' Church. The Standing Bar is known for not having any seating areas, just tall tables for you to stand, enjoy your drinks, and socialize with others. When the weather is nice, the Standing Bar becomes a very popular location to hang out at, standing outside, enjoying your beer and the company of your friends. Some other suggestions and popular locations are The Immigrant, which has an American chef, a friendly atmosphere, a wide variety of international beers, and has burgers and sandwiches. There is also the East Village, and St. Patrick's Irish Pub, which also holds Irish band performances.
Similarly to English in Brno, there's another group called Foreigners in Brno. This page is not as interactive, but it still provides similar events and is another place for you to find and meet other foreigners in Brno.
If you would like to brush up on your Czech, there is a group you can join called Czech For Foreigners in Brno. This is a group that gets together and practice the Czech language on a weekly basis. But it's not just studying for them, they hold events such as dance competitions, "jam sessions," and other fun activities.
For those of you who have families and are looking for other moms or dads to spend time with, there is a Facebook group you can join called English Speaking Mums in Brno. This is an English-speaking group of moms, dads, and their children who get together and speak English on all levels, from beginner to native speaking. They usually meet up for coffee, plan trips, and set up venues for their children to play with one another.
Websites
Besides Facebook, there are other websites that you can visit that provide events for foreigners or inform you about other events that are happening in the city.
A great website for foreigners to explore is Brno Daily. Brno Daily is an online news publication that is in English, providing information and news about Brno, Czech Republic, and other worldly topics. They also list upcoming events that are being held in Brno, offering fun activities and events in English and Czech.
Another blog you can explore is Foreigners. Foreigners provides paid services for foreigners coming to Brno but also hold free MeetUps for expats every month as an opportunity to interact with other foreigners. They hold other events such as a dance night, karaoke, yoga classes, and music events.
And of course, there is the Brno Expat Centre and their social events.
Conclusion
The city of Brno has so much to offer. From dancing to partying to taking language classes or going to new restaurants. There are many foreigners and friendly people out there and they are just as eager to meet you as you are to meet them. Brno provides plenty of opportunities for you to put yourself out there, try new things and meet new people. It is your responsibility to take advantage of these opportunities because if you don't you will be lost. This is a whole new world for you, this is the moment to explore and make new discoveries.