T2 Trainspotting: Boyle puts the band back together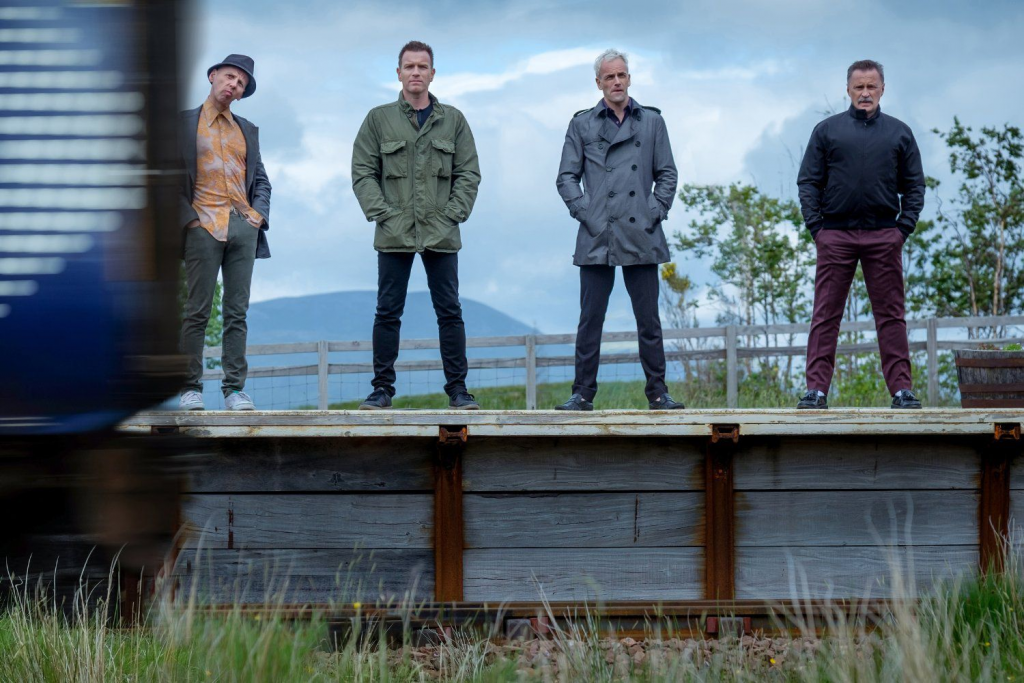 It was back in the mid-Nineties – Cool Britannia and all that – and we were all riding along in a giant double-decker bus painted with the Union Jack. Liam and Noel were up on the top deck, in their little round shades, and they were like, "Is it worth the aggravation to find yourself a job when there's nothing worth working for?" and we all agreed it wasn't, because all we needed was cigarettes and alcohol.
Jarvis was there too, in his velvet jacket, and we sang along with the common people, sang along because it might just get us through. Damon and Tony were downstairs chatting quietly on the backseat – you could tell they didn't think much of those northern monkeys. Even Keith was there, doing his crazy dance where he jumped around and slapped his head a lot. You had to watch your pint when he was around.
Then something must have happened, maybe we went off the road and tipped over in a ditch somewhere. Perhaps I was in a coma for a while, because the next time I looked everyone was in their thirties or forties, and nothing seemed more nostalgic than a fuzzy guitar riff on an Oasis track – something to take you right back to a sunny afternoon when you were young, jobless and couldn't give a toss.
[movies-box]
The flagship film of the time was Trainspotting. With its edgy subject matter, quotable dialogue, must-have soundtrack and a cool poster for every teen's bedroom wall, it flash froze the zeitgeist so distinctively that it felt dated by the time it left theatres. No other British film came close to capturing the mood of the era, striking the same contradictory note as Britpop – celebrating the restless energy of the working class while remaining fatalistic about their future.
Twenty years on, Danny Boyle has put the band back together for a belated sequel, loosely based on Irvine Welsh's sequel, Porno, and elements of his original novel. T2 finds former junkie Mark Renton (McGregor) returning to Edinburgh for a brief visit. He legged it with the profits of a drug deal two decades earlier, betraying his "so called" mates in the process.
Of Renton's old cronies, violent nutjob Francis Begbie (Carlyle) is doing a lengthy stretch inside, and Sick Boy (Lee Miller) is now the landlord of a broken down Leith boozer, supplementing his income with a variety of shady schemes. Spud (Bremner) is still a struggling heroine addict. Tired of being a lifelong screw up he decides to end it all, just as his old friend Renton comes knocking at his door.


For reasons that don't quite seem plausible, Renton is drawn into Sick Boy's plan to open a brothel, setting him on collision course with the vengeful Begbie, who has just broken out of jail. For the first hour at least, T2 is an enjoyable reunion with our anti-heroes, carried along by Boyle's infectious enthusiasm for the project. The director's trademark energy and flashy style show no signs of middle age spread, with his penchant for crazy angles, freeze frames and flights of fancy. It also helps that the music, which will inevitably draw comparison to the original's iconic soundtrack, absolutely rocks.
The second half runs out of puff, unsurprising since the first film was a bracing ninety minutes while T2 clocks in at almost two hours. Trainspotting suffered a little from its episodic nature, and T2 initially feels more satisfying narratively. In the second half this turns out to be its weakness, becoming a generic "one last job" caper with a finale cribbed straight from a corny old psycho-thriller.
Boyle has reassembled all the key cast members, and the results are varied. Bremner steals the show completely as Spud – in many ways, T2 is his film, how he eventually kicks his habit and finds a way to channel his energies creatively. The outcome of this stretches believability somewhat, especially as it throws a weirdly meta slant on the origins of Welsh's cult novel. Yet his performance is full of warmth, humour, and pathos. He's a born loser looking back on a lifetime of failure and regret, and the film's frequent call backs to the original work best when he's around.
Jonny Lee Miller is also very good as the embittered Sick Boy. With his fading looks and jaw jutting with resentment, his mask of vapid charm has long since fallen away, exposing his vacant, cynical soul. McGregor seems a little half-hearted, only fully committing in one scene, the much-criticized update of his "Choose Life" rant that effectively set the tone in the pulse-racing opening scene of Trainspotting.
By far the worst of the quartet is Carlyle as Begbie. His performance is played broadly for laughs, rendering the pocket-sized psycho a figure of fun rather than fear. Some of his moments, involving a burglary and a packet of Viagra, would feel more at home in a BBC sitcom.

So, is T2 any good? It certainly doesn't embarrass its youthful forebear, brimming with the same high energy and acerbic wit. It's extremely enjoyable, with some big laughs and very touching moments. It might take a second viewing to determine exactly how good it is, because even while watching I realised that I may be experiencing a Star Wars: The Force Awakens moment – thinking it better than it was purely on the basis that it wasn't rubbish.
One thing is for certain, T2 Trainspotting won't be regarded as another era-defining moment in British cinema, and it is unfair to expect that. Times have changed too much. I'm not sure what someone in their teens or early twenties would take away from this film, but then it's not made for them. Despite nods to the present, it's a nostalgia piece that feels like sitting in the pub with old mates talking about the good bad old days. We'll need a fresh angry voice to capture the zeitgeist of the current troubled, Brexit-haunted Britain – whatever that might look like.