Brooklyn: One for the expats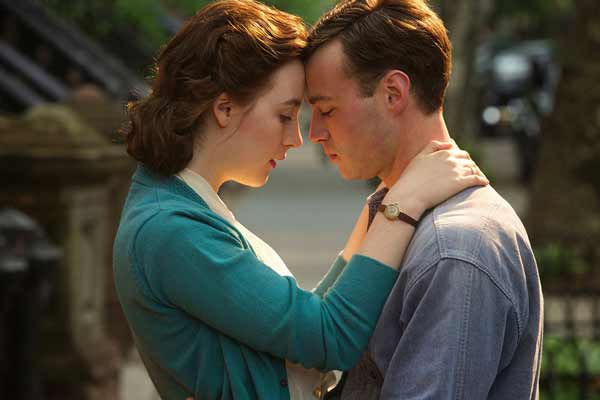 Sometimes living abroad can be tough on the emotions. I've lived away for seven years now, but still feel bad about leaving my family behind. I love Brno, but it's not home; home is Ipswich, but I never want to live there again.
Yet when I'm feeling a little tired or low, I'll often find myself roaming the streets where I grew up on Google Maps.
[movies-box]
John Crowley's Brooklyn will surely resonate with long-term expats, the tale of a young Irish woman who leaves to start a new life in New York in the early Fifties. Ellis (Saoirse Ronan) is a quiet yet strong-willed person, initially wracked by homesickness as she comes to terms with living thousands of miles away from home, but gradually finds her own way in the city. She slowly builds a new life, and finds romance when bashful Italian plumber Tony (Emory Cohen) starts wooing her.
Brooklyn is an intelligent and rousing historical romance, one of those heartfelt personal journey movies that often receives a Best Picture nomination at the Oscars but has little chance of winning the main prize – see also Juno and Nebraska.
When tragedy strikes across the Atlantic, Ellis journeys back to Ireland and sees home in a new light, especially with the courteous local bachelor Jim (Domhnall Gleeson) presenting another potential love interest. Ellis must choose between her new life in New York or a new start in her hometown.


Brooklyn is a superb star vehicle for Ronan, one of the most exciting young actors around at the moment. She made such a huge impact in her breakthrough role in Atonement almost a decade ago, and this film gives her ample opportunity to work through her broad range.
It's hard to believe that she's only twenty-one, an old soul capable of transmitting a vast array of emotions with just her eyes. Ellis' journey gives her so much to work with – excitement, trepidation, loneliness, despair, happiness, sorrow, love – and maintains her innate dignity even when suffering the ill effects of sea sickness on her long ocean voyage.
As her love rivals, Cohen is very likeable as the good-natured Brooklyn boy, largely avoiding the usual Italian-American stereotypes. Gleeson, who surely deserves a holiday after starring in so many noteworthy films last year (Ex Machina, The Revenant, Star Wars) adds another shade to his burgeoning acting palette, as a gracious romantic lead.

Visually, Brooklyn is a bit of a mixed bag. At its best, the colour saturation – predominantly focussing on green – gives the film a lush period feel, as if using Fifties adverts for biscuits, cigarettes and cleaning products as inspiration. Yet for a film that uses an evocative New York location as a title, there is very little sense of New York as a real place. It feels small scale, like a handsomely mounted TV pilot, and the potential epic sweep of the story is diminished by its modest budget.
Despite limitations in scope Brooklyn is a well crafted, underplayed melodrama that rewards the intelligent audience's attention. It's an old fashioned piece of storytelling that feels fresh in its old fashioned-ness, confident in its emotional power without ever feeling the need to indulge in modern gimmicks.
It's a joy these days to simply see a story well told, and with Ronan at the heart of it, Brooklyn is an immensely satisfying experience. Perhaps it will be best enjoyed by expats, especially those who feel caught between two shores.