Brno Expats Have Talent: Tiffany (US), ballet dancer
We introduce a new article series: Brno Expats Have Talent!
While most public events have been put on hold for a long time and it seems that no one does much – there are no concerts, performances, happenings or exhibitions – the people who have art and creativity as part of their lives are still here.
A day job, a family, and generally the effort of maintaining some level of 'normal life' are probably the order of the day, but that doesn't mean that their talent has been frozen too, or that it shouldn't be known to the world around them, even if 'invisible' during these strange covid months.
Therefore, we decided to highlight those people who live among us here in Brno and feature an interesting creative side.
And, while we might not be able to see them live, we bring a small snippet of their art to you through a short video. In the coming months, we will publish interviews with people from various fields – musicians, creative artists, dancers, performers, designers. We hope you'll enjoy this series! Feel free to drop us a line with your feedback or suggestions of people or fields.
---
TIFFANY BYRD (US) – ballet dancer
Watch a video made by Tiffany: "My dream role since age 3" 
How long have you been practising your art / your activity? How was it visible in your home country or previous place of stay?
I started taking ballet classes at the age of 3.  However, I was also interested in many other activities growing up such as playing the violin and competing in athletic gymnastics.  By the age of 13 ballet became my main focus.  I began competing in international ballet competitions and placing really well.  In these developmental years I was very fortunate to perform in professional productions with Texas Ballet Theater in Dallas, Texas and Ballet West in Salt Lake City, Utah.
Over the years, prominent artistic directors followed my development and a couple reached out and suggested that I look into pursuing a professional career in Europe.  I was awarded my first full company contract to dance with Ballett Dortmund in Germany through an international ballet competition called Youth America Grand Prix.  (There is a great documentary called 'First Position' about the competition- you can spot me in it if you don't blink!) I danced for two seasons with Ballett Dortmund and briefly guested with Grand Rapids Ballet in the US before landing a contract with the Národní divadlo Brno Ballet company.
Is it your main source of income or a hobby? 
My job with the theater was my main source of income.  I am very fortunate that my love and hobby was also a job that paid me enough to get by.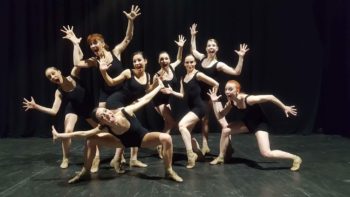 How do you find living in Brno as an expat and artist?

Living as an expat has always had its challenges, especially when the language barrier comes to play in the visa offices, doctor's offices, or dealing with utility contracts… It's also not easy to be an artist in Brno, especially as a ballet dancer. The pay is not that great and many of the corps de ballet struggle to make it month to month with bills.  As an expat it is even more challenging as there is still plenty of prejudice and acts of discrimination against foreigners in general living as well as within the ballet company and theater.  It's a difficult life and we face our fair share of adversity.  Dancers tolerate a lot of mistreatment that would not necessarily be tolerated or even allowed in other industries all for the sake of their love of the art.
However, I found that Brno offers incredible resources for expats to help them assimilate.  I wish they had even half as many resources in Dortmund when I had first moved there.  Living in Brno as an artist has been special as well.  There is so much culture and it has been a blessing to be a part of and contributor to such a special cultural history.
Is it easy to practise your art here? What obstacles did you face?
I think that the working conditions for practicing ballet in the national theater have developed in my time with the company.  Things are changing and improving with time and money.  The rehearsal studios have gotten new proper sprung floors.
What is really wonderful about the theater is the number of performances and the variety of productions that the ballet performs.  Performing for full theaters is one of the most rewarding parts of the job!
How different is the audience/clients/market in the CR compared to your home country?
I tend to think that the Europeans have a greater appreciation for the performing arts and more specifically ballet than Americans.  Perhaps that's due to the long history of the arts being a part of the local culture.  America's short history embraces the social culture in sports such as football and baseball.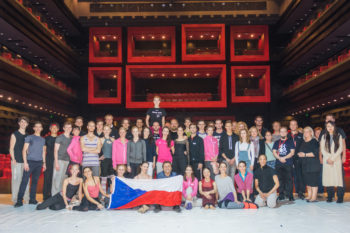 Where do you find inspiration? Did Brno/CR bring any new inspiration to your art? What/who was it?
I find inspiration from life experiences, meeting new people and hearing their stories, or through following other artists in my field.  Some of the adventures, experiences, and character shaping challenges I have had in Brno have definitely impacted my artistry, my perspective, and my approach to my art, life, and people.  Brno has impacted my life beyond inspiration and my art – living here has been a true blessing. 
Do you cooperate with other expats or local Czechs in your activity?
Yes! The ballet company is made up of many Czechs as well as a plethora of foreigners from all around the world.  Working and collaborating with people from so many different cultural backgrounds has been inspiring, eye-opening, and humbling.  I've learned so much about the world through my colleagues as well as having to acknowledge things about myself and my cultural background that I had taken for granted.
How can you practise your art now, in the strange covid times?
During lockdown I would either give myself a ballet class doing some of the basic exercises holding onto my bed frame or the kitchen counter.  Sometimes I would find some Zoom classes taught by some of my previous teachers back in the states or do some classes that had been recorded and posted to YouTube.  I also spent a portion of my day doing Pilates and some of the exercises my physios have taught me to prevent some chronic injuries from flaring up.
Back in the studios we would wear masks and do our best to be cautious about keeping distance and sanitizing the surfaces we touch (the barres).  It's been difficult to work though because we don't know when the theaters will open again for large audiences.  This makes it difficult to rehearse and work on certain productions.  We are having to find other ways to continue developing and growing as a company and trying to maintain if not improve our skills for the time that we will be able to return to the stage for audiences to enjoy.
Is there any other area in art that you'd like to explore? What are you looking for right now?
There are various styles of dance that I would love to explore further! Additionally, I enjoy journaling and writing- I hope to write a memoir about some of my adventures as an expat ballerina one day.
What did you choose for your live input of this article and why?
If I can find it and cut a clip, I will provide you with some video footage of the premiere of my dream role of the White Cat in Sleeping Beauty.  Sleeping Beauty was one of the first ballets that my parents took me to watch when I was about 3.  While I was mesmerized by all of it, I really fell in love with the Puss in Boots and White Cat dance in the wedding scene.  About 20 years later, I finally had the opportunity to learn and perform the role and could not have asked for a better premiere!
You can watch the video at the start of the article, or here.
---
Photos courtesy by Arthur Abram and Tiffany Byrd.