Brno Expats Have Talent: Miguel (Portugal) - urban sketcher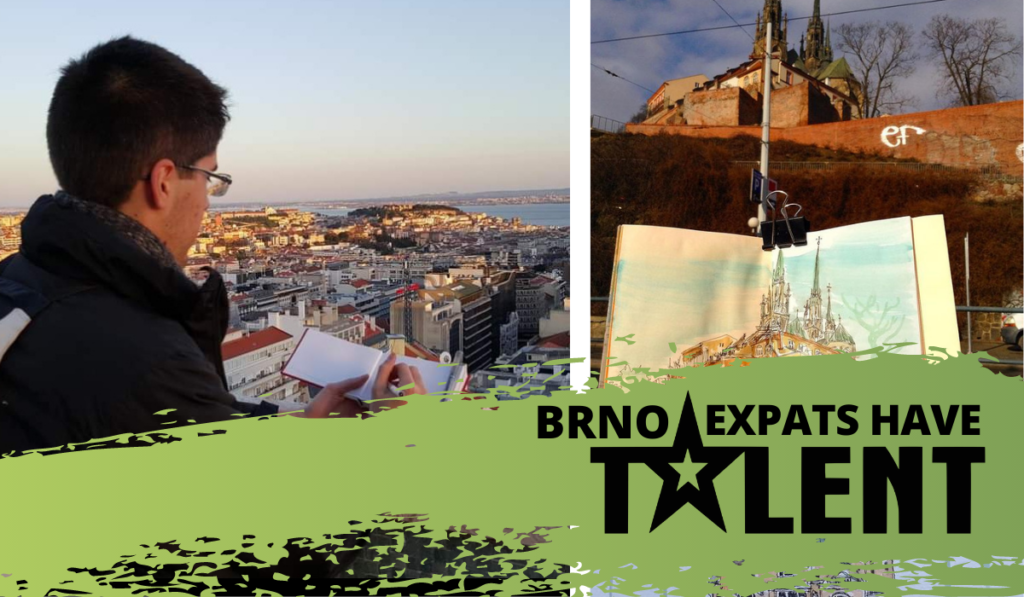 Welcome to another episode from our "Brno Expats Have Talent" series. Brno is full of talented people, and some of them are not even from the CR – we'll introduce one talented expat at a time!
This month, meet Miguel, who enjoys looking at everything he passes wherever he walks, and captures it through the brisk lines of his pencil or marker.
MIGUEL ANTUNES (Portugal) – urban sketcher

Watch a short compilation of Miguel's sketches:
How long have you been practising your art?
Like everyone I've started doodling at a young age (I always had this habit of drawing the silhouettes of people in magazines) but then continued through school. It became more serious in the Visual Arts classes where I saw that I was drawing more than the rest.
Curiously I left drawing after entering University (for Geography) and for the next 10 years I did no drawings at all. It all restarted when I did a European Volunteer Service project in Latvia, back in 2013, and never stopped doing this thing called UrbanSketching (Usk)
Is it your main source of income or a hobby? 
Not at all, only a hobby with colabs and comissions to the hospitality field, culture and events, publications and friends.
How do you find living in Brno as an expat and artist?
My time in Brno (a bit more than 2 years) as expat was very good. Despite the cultural shock (and weather, that I liked, specially the snow) and the different food, I managed to build an amazing circle, with expats, Portuguese speaking ones, Czech locals, and other foreigners.
Brno in 2019 was bubbling with expats and was easy to meet around the city. Brno has this amazing thing, its location: with my sketch-books I travelled extensively filling a bunch of them with drawings.
As an artist, in 2020, I started doing Urbansketching meetings and classes and it was a lot of fun. I feel that Brno has a huge potential in the art scene but not much offer in events or venues, and so to live from the art can be quite difficult.
Is it easy to practise your art here?
It's easy, despite the weather (for an Urbansketcher who needs to be drawing outdoors, the winter is harsh). Also the art supplies stores had a good offer.
I may say that the low offer of events (it's true that I come from Lisboa…), only in summer, and the annual Open House and Brno Art Week festivals, or a low art scene in Brno makes it harder to connect with other artists or agents, and thus to exchange ideas and contacts.
How different is the audience in the CR compared to your home country?
Very different. When drawing on the streets you aren't observed as in Lisboa (which is good for me) and the audience is hard to have. Lisboa (and also Porto) in the last decade invested in all sorts of cultural events, also due to the tourism boom (but we always had a cultural vibe since the 80´s, after our Revolution), so the audience is more demanding.
Even in the CR the difference between Brno and Prague is notorious. Despite the fact that Brno has Arts and Architecture Universities, the art scene is quite shy, compared to Prague.
But due to the history I think CR can become a good art place, with the location and proximity with Vienna.
Where do you find inspiration? Did Brno/CR bring any new inspiration to your art, what/who was it?
In everyday things. I always look at everything in detail, from the people in the trams and in the pubs to the big buildings.
The greatest thing in Brno, that brought back a passion, is the Architecture (the Minimalist/Functionalist style). I was always looking up, and down (to the BAM signs) and stopped to admire the details of the buildings.
And Villa Tugendhat was definitely very special to visit! It allowed me to be more quick on the perspectives and lines – "Less is More", as Mies said.   
Do you cooperate with other expats or local Czechs in your activity?
I started this Urban sketchers group with friends in the summer, and tried to leave a mark in some of them to become the Brno Urban sketchers.
How can you practise your art now, in the strange covid times?
Luckily my art can be done in all kind of environment and circumstances, but indeed it impacted the movement around CR and outside, and also to create a more professional side to my art, to gather people in classes.
But the good thing of Usk is the ability to do it even in our flats. We just need to search for other drawing-motifs (like food, our flat views, even using websites to travel and draw.
Is there any other area in art that you'd like to explore? What are you looking for right now?
Indeed, I'm shifting to other art fields, like children's colouring books or other fields (media, publications, branding…) and to incorporate other colouring materials complementing my watercolour use.
---
Photos courtesy by Miguel Antunes. Check out the Brno Legends for Expat Kids colouring book he illustrated for BEC, which will be published and launched on 19 June 2021 at our City Days Finale event.
More about 'Brno Expats Have Talent' series
While most public events have been put on hold for a long time and it seems that no one does much - there are no concerts, performances, happenings or exhibitions - the people who have art and creativity as part of their lives are still here.
We decided to highlight them. While we might not be able to see them live, we bring a small snippet of their art to you through a short video. In the coming months, we will publish interviews with people from various fields – musicians, creative artists, dancers, performers, designers. We hope you'll enjoy this series! Feel free to drop us a line with your feedback or suggestions of people or fields.