Brno Expats Have Talent: Alex (Russia) - graphic designer, bartender & sommelier
Welcome to another episode from our Brno Expats Have Talent series. Brno is full of talented people, and some of them are not from the CR – we're introducing one talented expat at a time!
This month, meet Alex, a jack of many trades, indeed! As a part of his interview, he shares three special cocktails that he built on the theme "life in Brno". All three drinks are quite easy to prepare at home – scroll down to have a look.
Alex Belyaev (Russia) – graphic designer, bartender & sommelier

How long have you been designing and bartending?
My personal immersion in graphic design began in Russia. Around the year 2007-2008, when I was still a teenager. It all started with Adobe Photoshop, where I drew for fun. And only in 2015, having lived in the Czech Republic for 3 years, I began to make a living this way as a freelancer.
With the bar part of me, everything is much more prosaic. While studying chemistry at Masaryk University, I was looking for a part-time job and therefore started working at a teahouse in the same 2015. Tea is a whole religion here!
In parallel, I was a big fan of hookahs and knew everything about this industry. With this set of skills, I got a job at the Queen Luxury Hookah Club, where I had to upgrade my skills of working behind the bar. And everything rushed rapidly. I literally spent all my time studying the alcoholic world: bottles, cocktails, wine, production basics, trends, novelties. I started producing my own gin and tobacco for hookahs (it was a big hobby!) as an additional income, especially since the skills of the graphics helped me create a unique branding of products. Later, when I learned everything about alcohol, I tried myself as a whisky ambassador in Scotland, received a WSET 2 sommelier certificate, traveled Italy through its vineyards, came up with a lot of signature cocktails and menus.
Is it your main source of income or a hobby?
Well, it is my main source of income and a hobby at the same time. Currently, I'm more focused on helping to open various gastronomic places. I combine the work of a graphic artist and a bartender – I create not only the concept of the menu in the place, but also the branding and visual style. But even in my free time, I devote myself to writing about wine on my Instagram (this is another huge hobby of mine).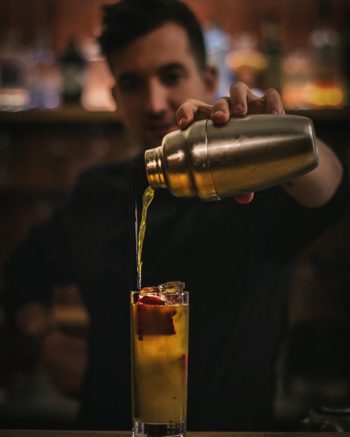 How do you find living in Brno as an expat and artist?
I really love Brno. I have been living here since September 2012, and I have never had the desire to move to another city. Everything I need for a comfortable life is here. My activity is not particularly affected by the fact that this is a small city in the center of Europe, because I do graphics as a freelancer, and I implement all my "alco-hobbies" worldwide.
Is it easy to practise your art here?

Personally, I realized that I like to work as a freelancer. I worked in Brno in an international office as a full-time employee, but then a lockdown happened and it didn't end very happily. As for bartending, it is worth noting here that not only your skill is very important, but also your imagination and understanding of where you want to develop. Brno is a small city, so good bartenders here stay at their jobs for many years.
How different is the audience/clients/market in the CR compared to your home country?
In my opinion, The Czech Republic lags far behind many countries (not only Russia) in terms of level and quality in the field of graphic design and bar. For comparison: just take a look at the Instagram profiles of Czech and Russian bars – a great example of comparisons of the graphic component. And you can also look at the current list of the world's 50 best. Spoiler: there are no Czechs there.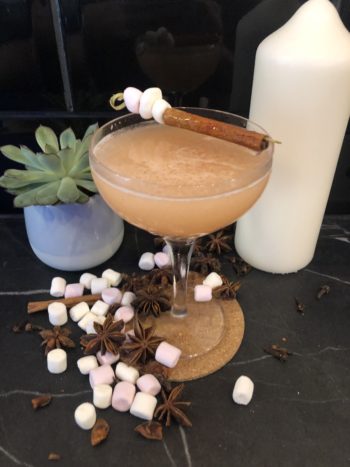 Where do you find inspiration? 
Inspiration for me is always a combination of my personal feelings and ideas about what kind of result I need. I have never used Brno/CR as a source of inspiration. Is it time to fix this? Then read on.
Do you cooperate with other expats or local Czechs in your activity? Even now, in these strange covid times?
In the field of graphic design, no. I am mostly interested in who works in what program. In the bartending – yes. I have been a "one-night-stand guest bartender" several times with my personal program in some bars. But still, the Czech Republic is not the country that is so good for this, in my opinion.
How can you practise your art now, in the strange covid times?
For the last few months, I have been helping to open an expat-run bar in the center of Brno as a bar manager. Also, my main activity is that I write a lot about wine on my Instagram. Sorry, most of the articles are in Russian, because I have a very specific presentation of information: I submit boring and nerdy scientific things in a sarcastic and joking manner. And at the beginning of 2022, I plan to open my online store with wine and author's «ready-to-drink» cocktails, where my graphic design skills will again help me.
Is there any other area in art that you'd like to explore? 
In the hobby part, I'm a maniac. If I'm interested in something, then I have to get 1000% of it, I have to know everything. It's important for me to bring my hobbies to the absolute, so for now I just don't physically have time for something new. Let's see what happens next…
Where can expats find you and your art in Brno nowadays?
I recommend visiting the Queen Luxury Hookah Club. Their current menu consists of my 20 author's cocktails. That's one of the current menus I came up with. As soon as Covid disappears from our lives, you can meet me at various events as a special guest bartender.
What did you choose for your live input?
For all the readers of my boredom, I have prepared three special cocktails, combining the graphic style of the Brno Expat Centre and personal associations on the theme "life in Brno". They are quite easy to prepare at home. I hope that all of you will like them. Cheers!
(click to enlarge)
Here's another of Alex's creations, combining graphics and bartending.
---
Photos courtesy by Alex Belyaev

More about 'Brno Expats Have Talent' series
While some public events have been put on hold for a long time, the people who have art and creativity as part of their lives are still here. We decided to highlight them through the interviews in this series.
We bring a small snippet of their art to you through a short video and you can decide to seek out their performance, exhibition or concert in Brno. In the coming months, we will publish interviews with people from various fields – musicians, creative artists, dancers, performers, designers. We hope you'll enjoy this series! Feel free to drop us a line with your feedback or suggestions of people or fields.