How I discovered Brno's legendary bookstore and its equally legendary owner
If you ever walked through the so-called Alpha passage in Brno, you might have spotted the bookstore located in the passage. Simply called Knihkupectví Michal Ženíšek, it bears the name of the owner, who proudly claims it to be the first privately owned bookstore in the country and we have to believe him cause it was opened in November 1989, right after the fall of the regime.
I recall walking past it and sometimes stopping just to admire from the outside all the books impressively stacked in the window display. In December 2021, I got hired in the shop as extra Christmas staff. Now from the inside, the impressive display turned out to be a tad too ambitious for such a small place – several times per day customers or staff would accidentally knock over a book, which in sequence caused several others to fall over. I was annoyed with the whole thing and Mr Ženíšek, the owner, was annoyed with me. He would get off his chair to come and fix the mess himself – I was awful at book stacking. Otherwise, the owner preferred sitting at his desk, giving instructions only from afar or stepping in when overhearing a customer asking about a certain book. I was glad for his interventions because most of the time I wasn't even sure I understood the title.
The shop has been his business for decades – a backup option for a fading career as an opera voice. I was hesitant to ask if he regrets not having continued as a performer. I understood that he still has ties with the world of opera – either by simply playing it in the speakers every day or even by hosting an opera play right in the shop.
If by now you are still not convinced that this is not your usual bookstore, then you should also know that Václav Havel himself paid it a visit in 1992 , and a photo capturing the moment is displayed inside, nicely attached to a portrait of him. In the picture, the former president is seen next to pan Ženíšek. When I asked if he and Havel were friends, pan Ženíšek played it modestly: "we were only acquaintances."
Otherwise, he didn't hold back from bragging about the accomplished folks who worked in the store over the years, such as a currently big IT company manager (whose name I didn't catch) or Ondřej Liška – apparently appointed as Minister of the Environment at some point. Also, as I learned afterwards, a few other foreigners had preceded me in this job, because pan Ženíšek is, simply put, multiculti (multicultural). He didn't hesitate to admit that their Czech was better than mine. Then, seeing the expression of disappointment on my face, he quickly corrected his answer to – "perhaps only a bit better than yours." In truth, pan Ženíšek was amused with my Czech and my overall state of confusion when he would commission me to go buy him meruňkovy plunder from Lidl, knowing I would only find Meruňkové kapsy.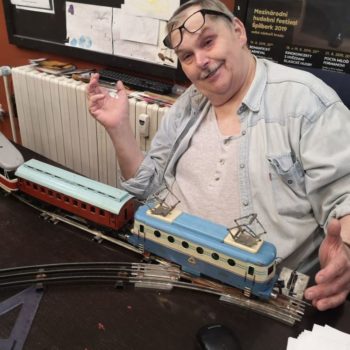 I promised him that I would write about him and his shop to make it known among fellow expats. But pan Ženíšek is no stranger to media exposure. A documentary made by Česká Televize in 2018 proclaimed him KNIHKUPEC BOŽÍ (The God of Books) and he obviously doesn't mind such an acknowledgment. Undeniably he loves his books, as much as his bookstore, so why not the moniker? I'm not sure that he is equally attached to his paintings collection, which is on display right in the shop. Though annoyed that customers keep asking him about it, he did confess he would be willing to sell any of the paintings if for a good price.
On my first day on the job, he enthusiastically shared with me the contents of an old suitcase sitting by his desk – a set of train toys that he says to have been a gift from his father. I didn't share in the joy as I was preoccupied to understand why he keeps such a precious memory in the shop. Then I realized that the bookstore is peppered with more of his personal possessions that just didn't make the cut in his own home, located only a floor above. An analog wall clock also stood out to me; I was warned that it no longer tells time, pan Ženíšek doesn't bother fixing it.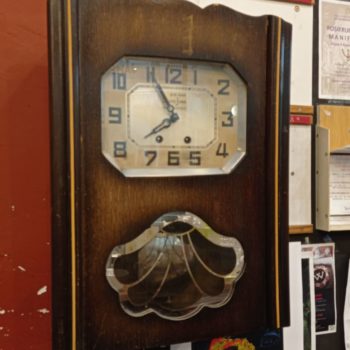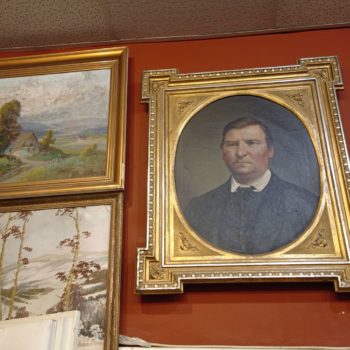 Apart from its unmistakable charm, the bookstore is also amazingly impractical. Forget clear shelf display and markups – here the books are arranged and classified by a logic that remains mysterious even to the staff. In between several books in Czech stacked together, I managed to find an Italian translated biography of the long distance runner Emil Zátopek. No wonder that customers are often under the impression that they entered an antique bookstore, which only enrages the owner, who gets to clarify several times a day that this is a regular book store… well, the regular remains debatable.
Needles to say that, after decades of running and almost being run over by competition and a feisty pandemic, it's impressive that this place is still standing, with no online presence (assuming you can imagine an online extension of such a store). But the future of this legendary place remains uncertain. Ženíšek feels ready to retire and no actual successor has been found to take his place.