What's happening at the Immigration office? Is it open?
In January, the Immigration office Brno will be moving to a new address. They'll be completely close between 4 to 17 Jan 2021.
That's why the collection of biometric data was only possible until  16 Dec.
Also, please note that due to the upcoming holidays, the opening hours of the Immigration office are limited from 21 Dec to 1 Jan. See the opening hours here. You can visit the Immigration office only if you have an appointment.
The Immigration office for EU citizens (Mariánské náměstí 1) will be permanently closed come 17 Dec.
The new Immigration office (for both EU and nonEU citizens) will be open from 18 Jan at the new address: Tuřanka 115, Brno.
Be careful, Google maps are showing a different location than where the offices actually are. This is the right place (map provided by Iman Mehmandoust, thank you!)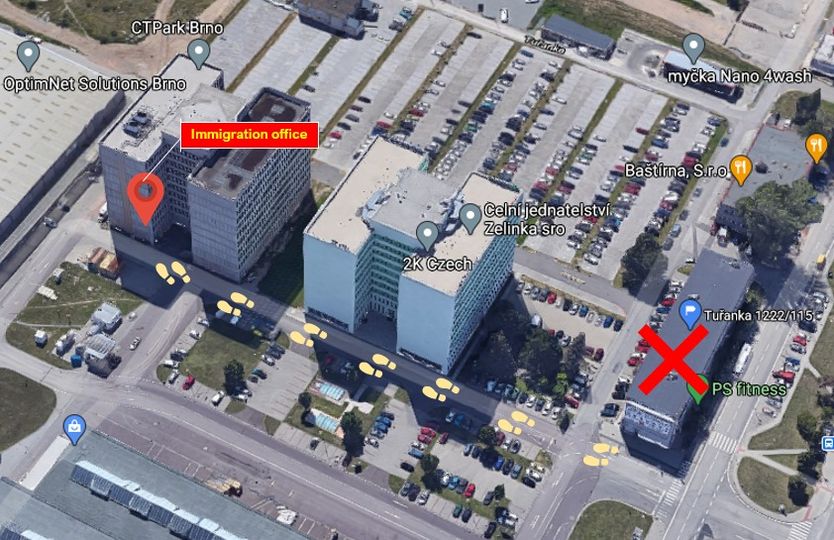 How should I communicate with the Immigration office while it's closed?
Your obligations after arrival to the Czech Republic (i.e. registration after arrival including the collection of biometric data) will only be possible in Brno from 18 Jan. For any urgent matters, you'll have to visit neighbouring immigration offices, i.e. in Jihlava, Zlín or Přerov.
Applications that must be submitted in person (e.g. an application for a long-term residence permit – including an employee card; for a temporary residence permit; for a permanent residence permit) cannot be sent by post or via data mailbox. It'll be possible to submit such applications in person again from 18 Jan, at Tuřanka 115.
Please, note that a number of residence-related matters can be dealt with via postal mail or data mailbox such as
For address to put on a letter, use Hněvkovského 30/65, 617 00 Brno until 17 Jan. From 18 Jan, use the new address Tuřanka 115, 627 00 Brno-Slatina.
What if I miss some deadlines due to the Immigration office being closed?
Any deadlines missed during the above-mentioned period of time (4 – 18 Jan) will not be a problem for you, as long as yours is a case
that requires submission in person,
or where you need to provide an original of a document that is not possible to send by post or via databox (ie. passport).
The fact that the Immigration office is closed will be considered as an objective obstacle that hindered you either from applying in time or from providing originals of required documents.
See the official communication of the Ministry of Interior regarding the Immigration office hours here.