Brno Business Story: From language school to Mexican bistro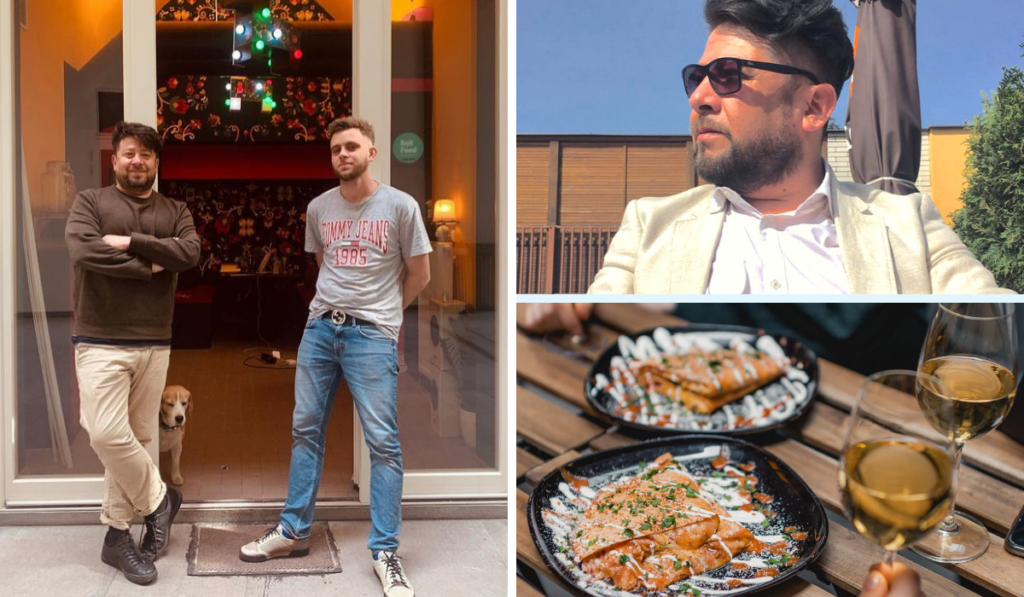 It's without a doubt that the Mexican cuisine has won the hearts and taste buds of Brno people. La Piňata, a small and stylish bistro located right in the city center of Brno, invites you, as the motto goes, to "embrace your inner Mexican." It promises authentic food and vibe, a concept that surely makes it stand out among other similar venues.
Hilde Aleman works there–takes orders, cooks, cleans–but he also co-owns it together with a friend. He came to the Czech Republic from Mexico, over 12 years ago and he never imagined that one day he'd be owning a bistro in this country. At the time, Hilde, unwilling to maintain a long-distance relationship with his then Czech girlfriend, decided to follow her back home.
Luckily, there was a demand for learning Spanish among the locals and he landed a job as a teacher soon after his arrival. But having had entrepreneurial attempts in the past, he knew he wanted to take this opportunity one step further. In 2012 he went on to start his own language school in Brno. Teachme, his first business project which aimed to innovate the methodology in teaching languages, turned out to be a success. It didn't take long before he and his business partners found themselves extremely busy managing the increasing number of enrolling students and school activities.
One of such activities has eventually led Hilde to his interest in the gastro sector and his subsequent gastro business. More specifically, his school was organizing cooking lessons as a way to teach Spanish to its students who would take part in preparing the meals. Since most of the cooking during the lessons was focused on Mexican food, Hilde was enjoying making burritos. Together with his friend Martin, they decided to continue making burritos during the summer, when the school was usually closed and he had more time on his hands. And so in the summer of 2020, they set up a food stand and started partaking in street food festivals, basically giving birth to their own gastro business. They branded it Burriots–a rather punk take on the idea of burritos and rioting.
For a while, Hilde kept both the school and the food stand business going, often promoting them alongside in food festivals. "Running a successful school was demanding. During covid the school had to be closed. My mind was pretty tired of teaching for more than 15 years and it required a change," Hilde remembers the turning point. By fall 2020, it was already clear that what he wanted to do next was to quit teaching and instead open a bistro with Martin. Since neither one of them was still sure of the idea of rioting with burritos, they dropped the Burriots concept and gave birth to La Piňata, where you can enjoy not only burritos, but a plethora of other Mexican dishes.
And how did they finance the beginning? With the previous success of Burriots, they were able to obtain half of the capital. Another part of the money came from the Czech business partner and the rest from their regular jobs (teaching).
Finding a good location for the bistro was challenging as the city center had a very limited capacity and there was quite a competition for the space they've set their eyes on. To win the location, the newly created company presented a fifty-two-page business plan and pay two months' rent commission. Another five months of sweat and hard work was put into rebuilding the space, to turn it into the La Piňata that we know today.
The highlights of the place are the piñata lamps, an original idea created in collaboration with a design studio Maess from Brno. The whole bistro is a burst of colors and if you look closely, you'll notice that one of the walls is covered in a blend of Moravian – Mexican motifs. The surprising but creative insertion of the Moravian elements in the decor aims to make the place a bit more hybrid in its cultural influences. Plus, as Hilde reminds me, "the other owner is Czech, after all." Even so, the Mexican flag that hangs in the kitchen and the experimental picture of Frida Khalo at the entrance doesn't allow you to get too carried away and start ordering knedlíky instead of tacos.
The business owner has the same approach to his team, trying to create a friendly working environment for everyone who joins the staff. Though he takes on many functions in the bistro, he is still very reliant on his Czech-speaking team. Hilde, who is able to get around and serve customers in Czech, still says: "I always partner with a Czech speaker for business, because it makes things so much easier. You have to keep files, the laws keep changing and sometimes there are benefits you don't even find out about if you are not able to understand the language well."
Despite the language barrier being an issue for him, Hilde finds the legal process of opening a company in the Czech Republic quite simple. For setting up a limited liability company (in Czech, s.r.o.) they hired a professional notary service for some fifteen thousand CZK. Furthermore, the Mexican entrepreneur believes that "Czechs are open to foreigners and to other cultures. If you can bring something that feels interesting to them, then they will definitely support it and you will feel welcomed by them."
Another big part of the know-how was finding quality and reliable suppliers. While making sure that they bring only quality food to their customers, most of the sources are from the Czech Republic. But the "nopales" cactus filling for the tacos is imported raw and prepared only for the bistro.
There is a spark in his eyes when I invite him to define what an entrepreneur is. Without hesitation, he claims that an entrepreneur is someone willing to strip themselves of anything that makes their comfort zone and work 12 hours a day. "If you work a steady job, you are used to spending 70% of your income on maintaining your comfortable lifestyle. You may dream of something else, but it can be hard to give up on your lifestyle. The moment when you want to create something, is also the moment when you are ready to lose something,'' Hilde says.
He then goes on to advise anyone interested in opening their own company to "try to remove all of the things and the habits you don't really need and maybe eventually this will not only simplify your life, but it will also make room for you to start the business you've always dreamed of."
As for aspirations, Hilde mentions the intention of opening a second venue for La Piňata in the near future. But he does not aspire for this business to make him rich or to become a big enterprise. "I'm seeing it day by day. I can say that for now, I don't have much of a private life as I am working really hard and that leaves me no time for anything else. But I am also open to the idea that maybe tomorrow my life will look different," he says.
---
Contact us
if you also have a business idea in mind or you already are running a business, and you could use some help with kicking the idea of the ground: we can help with the admin side of things, consulting or networking.