A Business Quest: Adventuring out onto the market
Entering unknown territory carries several risks, but a map together with a bit of recon can save you plenty of inconveniences on any journey. The same can be said for doing business, when first entering the uncharted waters of your intended market. Experienced consultants from the South Moravian Innovation Centre (www.jic.cz) offer a few tips for market reconnaissance, so your eventual entry isn't just one big step into the complete unknown.
First, remember that such exploration isn't a linear activity, and neither is it enough to go through these recommended steps once, to feel like you've done enough, to pat yourself on the shoulder and never turn back. It's an ongoing process; information often comes to you from different sources at different times. You find something yourself, sometimes another entrepreneur will advise you, or you get input from a customer. Also, make time to evaluate in regular intervals what the information means for your project or business.
The following tips relate to the start-up period of a business and should be a mandatory homework assignment for every founder.
My first question: How many customers do I have?
Maybe you have a promising product that makes sense to someone, and that someone is even willing to pay for it. But for your business to be sustainable in the long run, the number of such potential customers needs to be large enough. For market reconnaissance, you will most often come across this definition for the size of a market:
The size of the market is determined by the volume of annual revenue from all products sold in each market. In other words, determined by how much a given market brings in.
You should then be interested in how much you can cut from this cake for yourself. There are two approaches:
Top-down approach
You determine how many such customers you will theoretically be able to reach through your sales or distribution channels (= SAM – Serviceable Available Market) from the total amount of customers/sales volume in each market (= TAM – Total Available Market) and, finally, what will be the share of those you actually convince to by (SOM – Serviceable obtainable Market).

This method is often overly optimistic, but it allows you to look at the overall potential of a given market.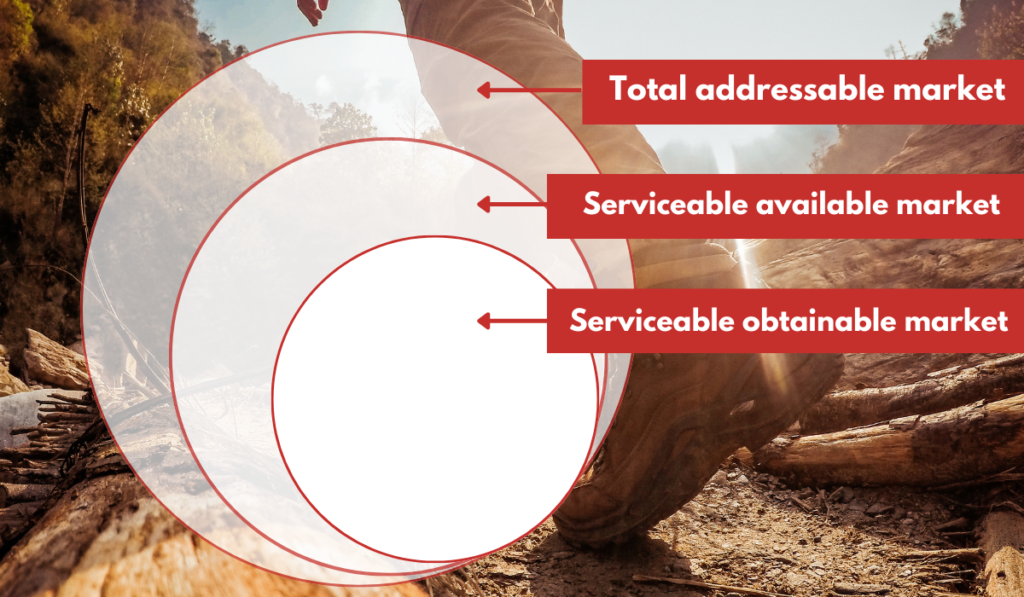 Bottom-up approach
You survey a representative sample of your target audience and based on the interest they show in your product, you can estimate how much of the market you will be able to successfully reach.  

This approach is more difficult, but its result will give you a much more realistic idea of what awaits you once on the market.
Combining these two methods, you get a fairly accurate estimate of the size of your market and the potential it offers for you.
You're never isolated
The most common mistake that novice entrepreneurs make is underestimating their competition in their intended market. You have no competition? Impossible; remove such statements from your vocabulary. Because should that be true, you're probably not introducing a solution that someone is willing to pay for.
The existence of competition also means that there are customers in the market. The competition also offers you a lot of valuable inspiration on how to do things, or what to avoid.
Always remember
Don't blind yourself by observing only the domestic scene; scan the competition outside the Czech Republic, too. Even if you're not expanding across borders, your foreign opponents might, straight into your territory. 

The products you're going to compete for customers with, don't have to be identical to be your direct competition. It's enough that they satisfy the same need of the same target audience.

and never forget the indirect competition. It may not be the same type of product at all, but it can be a serviceable alternative from the point of view of the customer (indirect competitors in the beverage market are, for example, manufacturers of coffee and mineral waters).

Try to identify an inspiration among your competitors (in their product itself but perhaps in their business model or their marketing communication) and how this approach could be reflected in your own project.
A little theory
Professor Michael E. Porter from Harvard Business School is a marketing guru. His Five Forces model recommends looking at the 5 following criteria before starting a new business.
Competition in the industry:

who exactly is it? What does their product look like and how does it differ from yours? Who is the market leader and who is right behind him? With whom will you compete directly?

Potential of new entrants into the industry:

how challenging is it to get started in your line of business? What possible obstacles do new players face? For example, is there a need for expensive equipment, unique know-how or hard-to-obtain official permits and certificates?

Power of suppliers:

how many potential suppliers are there for you in the market? Who exactly are they? How strong are they in their bargaining position?

Power of customers:

do you have enough potential buyers in the market? And what is their position towards suppliers of similar products? How much can they dictate terms of cooperation?

Threat of substitute products: how easily can your product be replaced by some other solution? How are market trends evolving and what risks does this pose to you?
Where to look for data?
The data needed for secondary market research can often be found on the internet. Many valuable data are offered by statistical offices or various supranational organizations (e.g. Czech Statistical Office, Eurostat, UNSD). There are also expert studies of branch organizations or interest associations in the industry you're targeting. Alternatively, you may be interested in studies of the development of a given technological trend.
The easiest way to find your competition is online, and you can also be inspired by reports from consulting companies or investor groups (e.g., Frost&Sullivan, McKinsey or CBInsights). Also, do not underestimate social or print media, annual reports of companies and sites of government institutions or agencies. And finally, valuable information can be given to you by both your customers or other entrepreneurs who are moving into the same market. Often all you have to do is ask.
The market is constantly evolving, competition and trends come and go, and conditions are changing. Therefore, market research never ends. If you want to start a business, as your potential customer, investor or business partner (and, after all, consultant), I expect you to do your homework 
---
This text is based on a Czech article written by Hana Šudáková, see original at jic.cz. Picture by Aleksandar Nakic (Canva.com).
Have you found these tips useful? Contact us for more
If you have a business idea in mind (or you're already running a business) and you'd like to have an experienced mentor by your side, get in touch with us and we connect you with a business consultant from JIC.