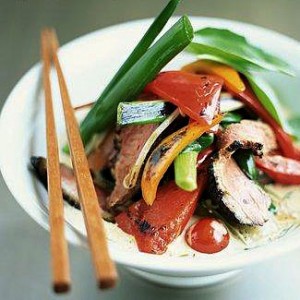 EVENT IS CANCELED
Do you know of any wines that can stand up to the spiciness, acidity and sweetness of Thai food?
Do you love Thai food but have never learnt how to cook it?
Well come and see for yourself how to cook Thai food and learn what wines can be matched with a variety of dishes. Mike Mazey will guide you through exotic tastes of Thai cuisine paired with the best suitable wines.
Dishes prepared by Thai chefs in Sabaidy restaurant, Kapitana Jarose 29. Wine selected by Mike Mazey from Slow Food Slow Wine. Event starts at 7pm.
The following is the degustation menu:
Welcome Drink: Eberherr Gruner Veltliner, Burgenland Austria
1st course: Chicken Satay
1. Furmint white wine, Tokay, Hungary
2. Riesling, dry, Mosel, Germany
2nd course: Phadh Khi Mao with Prawns
3. Pinot Gris, Moravia?
4. Rose Frankovka, Moravia
3rd Course: Red Pork Curry with Jasmine Rice
5. Gewurztraminer, Alsace, France
6. Dolcetto, Piedmonte, Italy
4th Course: Coconut Pudding
7. Australian Botrytis Semillon
8. Greco di Bianco Straw wine, fortified – Calabria, Italy
Tickets sell for 850,-. Register at info@brnoexpatcentre.eu
Do you like this article? Let your friends know about it.
Recent posts from this category: