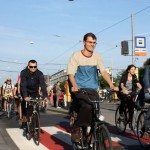 When I came back from my summer internship in Spain (Menorca), where almost everyone used his or her bike for transport through the city, I decided to bring my bike from my hometown to Brno as well. I thought I would be able to quit transporting myself via the public transportation system (at least in spring and summer) and start to use the bike for these purposes daily. In fact I was quite scared to take it into the one of the most car-crowded roads on my way to the centre – Vídeňská street. After a year of running into my bike behind the front door every day I still haven't taken it for a ride to the centre.
Maybe this action could be my premiere, since the whole "fun ride" is reserved for bikes, skates and pedestrians. Does anyone have the same problem as me? Join the "Brno na kole" team, which is pleased to invite you to the Critical Mass Bike Ride. Just have a look at the invitation below and don' t forget as well to look at their web page, where you will find a lot of information about cycle paths, cycling maps, more cycling-focused events, etc.
On Saturday April 16th the Critical Mass Bike Ride (what's this "critical mass" thing?) will take place to support bicycle transportation in the city of Brno. Hundreds of people will meet at Moravské náměstí (in front of the Scala cinema, see the map) at 2pm.
The fun ride through the city centre will end up in the Špilberk park, where the celebration of The Day of the Earth will take place.
You can also join us during the ride – see the map of the route.
Don't worry about bringing your children with you – safety during the ride will be ensured by city police and the organizers.
Looking forward to seeing you
"Brno na kole" team
Do you like this article? Let your friends know about it.
Recent posts from this category: